Come to the exhibition Work in Progress during the Dutch Design Week 2018 were we are showing our latest work!

WORK IN PROGRESS
Work in Progress shows the current state of practice-based design research: from exploratory research to prototypes and upcoming market introductions. The theme this year is Applied Design Research as a Catalyst of Change. Design professorships from Dutch universities of applied sciences show their most innovative research projects here. Be amazed by the latest bio-based products: from textile dyed with bacteria to façade cladding that imitates a polar bear. Experience the look and feel of a jute cafe table and a recycled denim wall. Step on the innovative Robo stairs, which combine the benefits of a lift and a staircase. And see what comes out of the 3D printer: a drone, flexible fashion textiles – to a 'tiny house' of concrete. As a visitor to the exhibition you can actively participate in user surveys.
Design research is 'work in progress'
THE FUTURE OF LIVING MATERIALS
In several subprojects of The Future of Living Materials, designers examine the possibilities of living materials that contribute to a sustainable and circular fashion industry in collaboration with ArtEZ Future Makers and Wageningen University & Research.
We will show our biodesign research project Living Colour here. In this project we investigate a new and natural way to dye textiles with bacteria that produce pigment. We want to offer a sustainable alternative to toxic synthetic textile dyes made from petrochemicals. Pollution from fashion production and in particular the textile dyeing process is a big problem. Textiles is the most polluting industry after the oil industry. The colouring, bleaching and treatment of textiles causes 20 percent of all water pollution in the world.
Some bacteria naturally produce pigment. This biodegradable pigment appears to lend itself very well as a dye for textiles. Our dyeing process uses little water and low dye temperatures, without the use of toxic chemicals, textile treatments or fixatives, in contrast to the current way textiles are dyed. Both natural and synthetic fibers can be dyed with this method, which is rather unusual. Normally natural dyes do not bind well to synthetic fibers, but bacterial dyes do. Some bacterial pigments also contain favorable antimicrobial and UV-protective properties.

RECENT DEVELOPMENTS OF LIVING COLOUR
We've recently found a way to dye large pieces of textile in a uniform and even way with bacterial ink. Now we are able to dye enough fabric to make a garment for example. We have also found a method to expand our colour palette by mixing colours. Furthermore, we work together with other designers and companies that have developed their own sustainable innovative material to test whether our dyeing process is suitable for dyeing these materials. We show these new developments during Dutch Design Week. Come and see these exciting new developments!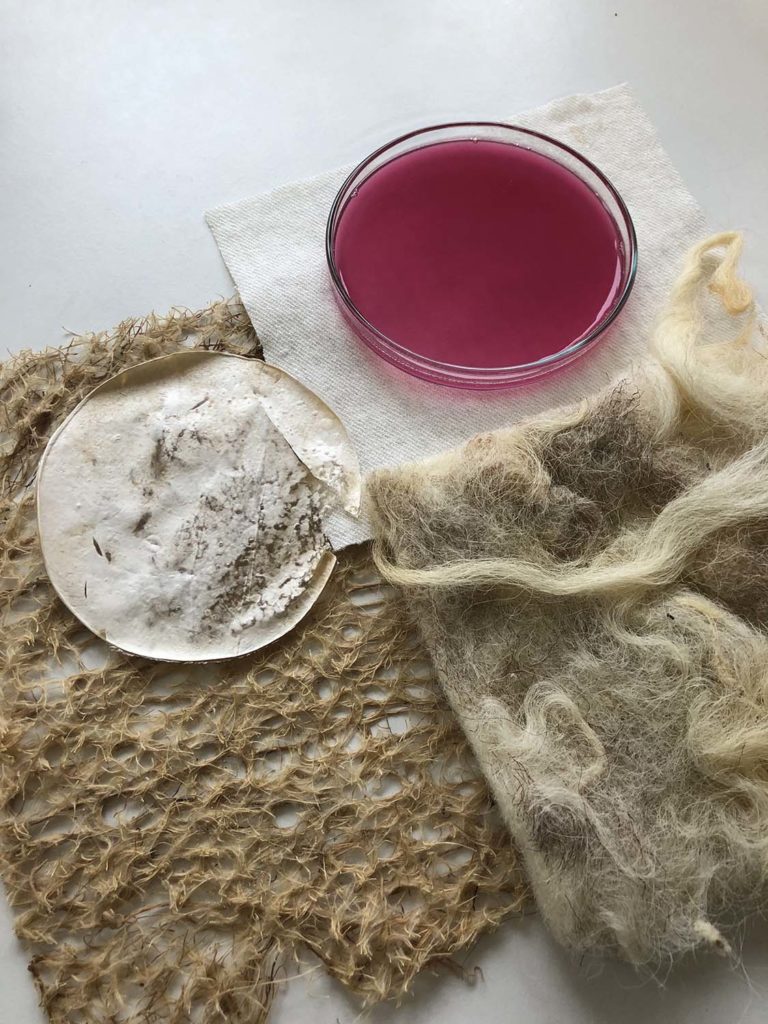 EXHIBITION
All week in Klokgebouw | Hall 2 by Network Applied Design Research (NADR)
Klokgebouw | Hall 2
Klokgebouw 50
5617 AB Eindhoven
Map No. A1
Strijp-S
Openings hours:
Sat 20 Oct 11:00 – 18:00

Sun 21 Oct 11:00 – 18:00

Mon 22 Oct 11:00 – 18:00

Tue 23 Oct 11:00 – 18:00

Wed 24 Oct 11:00 – 18:00

Thu 25 Oct 11:00 – 18:00

Fri 26 Oct 11:00 – 18:00

Sat 27 Oct 11:00 – 18:00

Sun 28 Oct 11:00 – 18:00

The Future of Living Materials is funded by Bankgiroloterij Fonds.